Keen to build sustainability & agility into your organization? How would turn key systems & the latest in project management sound to you?
About this Event

Do you want to see these kinds of returns in your organization?
How does putting your practice at the head of the curve sound to you?
Keep reading to see how you can put these ideas to work for you!

Dear friend,
Are you a project manager or leader of your organization?
Are looking for a higher return on your projects all while making a meaningful and sustainable impact on society?
How would you like to up your organization's efficiency and impact, simply by becoming a more agile organization in tune with the newest trends?
If you are interested in any of these 3 things then read very closely to what we're about to share with you.
One of the main issues at the beginning of the 21st century is how to achieve sustainable development all while remaining an agile organization. Yet, sustainability and agility are complementary concepts.
In a world where project management is becoming a vital force for innovation and organizational behaviour, organizations must adapt.
To be successful, we have to apply a broader definition of project success:
The appreciation by various interested parties of project outcomes to multiple and varied industries.
Maintaining a community in which diversity, creativity and open-mindedness are hallmarks in project execution

In our coming event, we're going to share with you the EXACT same techniques and methods that have made numerous organizations more nimble and more profitable.
You're going to be shown:
How to become agile and show assurance of agile delivery
What are the differences between an agile and waterfall approach? What are the benefits of agile working?
Directing Agile Change
AND ALL within delivering highly sustainable projects.
...And that's barely scratching the surface.
Still wondering the value of agile sustainable project management?
Ponder this...
Sustainability is an increasingly important business consideration.
Bain & Company surveyed 297 global companies in 2018: 81% said sustainability is more important to their business today than it was five years ago, and 85% believe that it will be even more important in five years.
Good sustainability practices can pay off.
Arabesque and University of Oxford reviewed the academic literature on sustainability and corporate performance and found that 80% show that stock price performance is positively correlated with good sustainability practices.
More motivated and productive employees.
Researchers at UCLA found that employees of companies that adopt sustainable practices are 16% more productive.
More loyal consumers.
A 2017 study on corporate social responsibility revealed that 88% of consumers will be more loyal to a company that supports social or environmental issues.
Going green is good for your bottom line.
Nearly 80,000 emission-reduction projects from 190 Fortune 500 companies delivered almost $3.7 billion in savings for 2016 alone, due to a combination of lower energy costs and improved efficiencies.
Imagine This...
What would you do with those kinds of savings and profits? The opportunities are endless!
Sounds Great.... Tell Me More...
So, what we've done is we've put everything together in a full day event for you:
"Building Agility and Sustainability in Project Management"
Here's what you'll get...
A Full Day Conference covering:
The Latest Research on Innovative Project Management Delivery
A cross-industry perspective on Integrating Agility in Project Management
The latest trends in Integrating sustainability into Project Management
Practical ideas for Integrating Change Management into Project Management
...and a full day of Networking.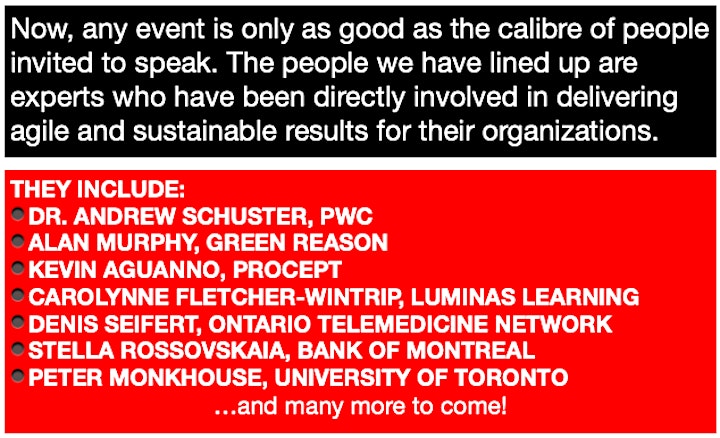 As you can see, this will be a highly impactful event not to be missed.
As you know, many conferences can run you up to as much as $2500 for the full day and up. So even if we asked you for 10% of that, you'd be looking at no less than $250 and it would still be a literal STEAL at that price (especially considering everything that you are getting).
But after talking it over, we realized that if we really wanted to get this programme into the hands of as many people as possible, we needed to dramatically lower the price.
So today, we're not going to ask you for $2,500.00... Nor will we ask for $1000 or even $750 for that matter (which would still be within the range of many full day conferences).
Instead, we'll be asking just $195 CDN at the member EARLY BIRD rate.
That's it!
And just so you don't feel at any risk with us when you register for the conference today... we're going to give you our ironclad 30 day money back guarantee.
This means if you are unhappy with this program for any reason or can't attend, simply shoot us an email or phone call within 30 days and we'll refund you immediately.
That means the only logical choice left, is to simply give this an honest try- Completely 100% risk free.
You have nothing to lose... but everything to gain!
It's your choice, obviously...
But we both know which choice is the right one!
PRICES ARE SET TO INCREASE JANUARY 31, 2020 TO $295 at the regular member rate.
REGISTER TODAY!